Aug. 29, 2023
Virtual Coffee with Consulting: AI and Big Data – Rewards, Risks, and RIM Implications
With all the buzz surrounding constantly evolving AI technology, records, and information management professionals are eager to keep up and understand how they fit into this. If you fall into this arena, please join Zasio consulting and guest panelist Anita Paul, former head of Roche's records management program, for a high-level introduction to AI and Big Data, and a glimpse into how companies are leveraging this technology to their benefit, along with some of the risks.
The session will also introduce the emerging AI regulations and various implications and takeaways for RIM professionals.
UPDATE: View a recording HERE. | Download the slide deck (pdf)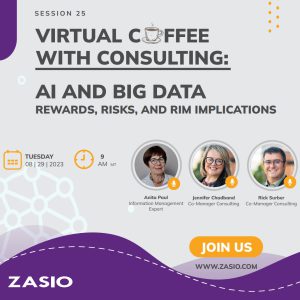 Catch Up On Past Sessions
2023 Virtual Coffee Sessions
June 20, 2023
Theme: Practical Strategies for Managing Electronic Records
Description:  
You've spent months developing, reviewing, revising, and approving a glorious retention schedule. Now what? How do you turn that policy into consistent practice?
In this session of Virtual Coffee, Zasio's own Warren Bean will join the conversation to offer practical tips on applying retention rules to various types of electronic repositories (even the slippery ones such as email, cloud drives, and messaging platforms). Warren will explain a process he developed to analyze the nature of records and the capabilities of repositories to help strategize the best approach for retention management.
April 5, 2023
Theme: What on Earth is Going on With Chat GPT?
Description:  
ChatGPT is just one of many ventures pushing the boundaries of large language models and AI. The technology is fascinating, but ChatGPT isn't the only example. And clearly, the sexiness of the name isn't what propelled ChatGPT into popular consciousness. Going from an unknown term to mainstream consciousness in less than a month is no mean feat. How did it happen? And what are the implications for information governance professionals?
Guest panelist John Mancini, a renowned author, speaker, information governance expert, and former president of AIIM, joins Jennifer Chadband and Rick Surber, senior analysts from Zasio's consulting division, for a conversation on ChatGPT, and how it's affecting the information governance landscape.
During this session, we will also briefly preview an in-person Boise Valley ARMA Chapter event scheduled at the Idaho State Archives coming in May, where Mancini will talk about his exploratory journey through records and archives to find the truth about his family, as detailed in his acclaimed book "Immigrant Secrets."
Feb. 2, 2023
Theme: The Mile-High View for Records and Information Management Professionals
Description:  
Data security breaches continue to pose real threats to organizations, and with incidents continuing to trend upward, 2023 will likely be another record-breaking year for data security intrusions. The vast majority are preventable with the adoption of basic security practices, and a robust information cybersecurity program, which is now more than ever a vital component of an information governance (IG) and records and information management (RIM) program.
Unfortunately, it is often the case that executives, IG/RIM professionals, and other vital stakeholders are too far removed from cybersecurity processes and initiatives to devote the attention and funding that they require. This paradigm is quickly shifting, however, as information security is increasingly coming to the forefront of organizational priorities.
Join Rick Surber and Jennifer Chadband, senior analysts from Zasio's consulting division, along with guest presenters Elizabeth Khan and Dr. S. M. Loo for a webinar that bridges this divide by providing an overview of modern cybersecurity best practices and standards along with actionable steps to shore up your organization's security, while providing practical and regulatory context relevant to the RIM/IG industry.
2022 Virtual Coffee Sessions
Nov. 2, 2022
Theme: Demystifying Defensible Disposition
Topics:  
Policies, procedures, and other infrastructure
Records retention schedules and their implementation
Fostering a culture that values defensible disposition
The nuts and bolts of how to ensure defensible disposition occurs
Sept. 14, 2022
Theme: Practicing Minimization in RIM/IG
Topics:  
Reduced Costs Associated with Storage and Litigation
Mitigated Risks Associated with the Over Retention of Personal Information
Risks of Breach
The Overall Ability to Get a Handle on Your Information and Maintain Compliance
July 20, 2022
Theme: RIM Considerations in Planning for Litigation and Legal Holds
Topics:  
What is the who, what, when, where, why, and how of litigation hold process?
What is the Electronic Discovery Reference Model?
How does defensible disposition and effective RIM practices make the whole process easier?
How important is a data map in the planning phase?
What tools are recommended for searching and finding electronically stored data (ESI).
Are overall eDiscovery standards formalized in respective organizations?
May 18, 2022
Theme: Best Practices for Electronic Records Management
Guest Panelist: Warren Bean, CRM, CISM, Sr. Sales Engineer and Product Development Manager
Topics:  
Are there records that should be maintained in hard copy, or both hard copy and electronic?
What are the best practices for naming conventions, AD groups, and filing structures?
How can you best take inventory of existing electronic records in order to know what needs to be managed?
What are the best practices and strategies for building the necessary electronic records infrastructure and foundation?
What tools can help transform your electronic records landscape?
March 10, 2022
Theme: Fundamentals of Artificial Intelligence for Non-Computer Scientists 
Guest Panelist: Maura Grossman, J.D., Ph.D., Research Professor in the David R. Cheriton School of Computer Science at the University of Waterloo
Topics:  
How does AI work?
How is AI being used in the industry and law today?
What are some of the issues AI implicates, such as bias?
What particular archival/records management processes have you identified as the best candidates for improvement through the application of AI-related technologies?
Is it really possible for AI to replace human intelligence? Can AI be self-learning?
What legal risks exist with AI and when do you think the law will address challenges with AI?
How is AI transforming the record digitization process from hard copy conversion to ingestion in an electronic content management or records management system?
View Questions and Answers from Session
January 26, 2022
Theme: The 21st Century Archival Practitioner 
Guest Panelist: Dr. Patricia Franks, PhD, CA, CRM, IGP, CIGO, FAI
Topics:  
Given that records and archival practice are increasingly impacted by emerging information technologies which surreptitiously put IT managers on the drivers seat, how can Records and Archival managers take the front seat deservedly so in records and archival management projects?
Is there a difference between Historical and Archival value? Does the department that generates the record decide if they are historical, or do Records Managers, or Archivists?
How will blockchain technology change archival preservation?
How can Archivists successfully carry out their duties, while also increasingly working as part of a team involved with activities like cybersecurity, blockchain distributed ledger technology, digital forensics, e-discovery, and information governance?
July 16, 2020
Theme: Structure Data Retention Periods and COVID Records Retention
Topics: 
Structure data retention periods

Does your organization struggle with determining appropriate retention and disposition for structured data?
Does your organization keep a separate retention schedule for structured data?
For those organizations with their management of structured data, how do you determine the appropriate retention periods for that data?
Should the appropriate retention period for structured data correlate to the retention period of the output records?
How do you approach retention periods for applications that have various data fields? For example, one data section has employment information, another data section has company financial record information, etc.

COVID records retention

Is your organization currently generating/collecting/retaining employee health-screening COVID related records?
For organizations collecting various employee health information, how is this information being categorized?
Has your organization determined an appropriate retention period for these records?

If yes, what has been determined the appropriate retention period?

Do you consider employee health-screening COVID related records to contain PHI (Protected Health Information)?
June 17, 2020
Theme: RIM Policies and Records Retention Schedules
Topics: 
We are a local government agency preparing to update our records management policy and retention schedule. I am hoping to gather information to aid in the development of a records program that meets today's environment. I would like to know about:

Best practices/standards for records management policy
Best practices/standards for retention schedule
What is considered permanent record (agenda, minutes, financial statements, etc.)
Paper versus electronic records
May 14, 2020
Theme: RIM Fundamentals and RIM/IG + COVID-19
Topics: 
How many call participants still grapple with RIM fundamentals, including but not limited to the following:

Obtaining senior-level support
Records retention schedules
Physical records issues – such as onsite/offsite records storage with one vendor
Creating RIM awareness within their organization
Employee training

Has your organization advanced fundamental areas to more advanced RIM areas such as IG, privacy, and electronic records and information management?
Companies are starting to assess returning employees back to the office.

Is your company doing this in a staged approach?
Has your company implemented an employee health-certification to return to work?

Have you had to deal with scheduling COVID self-certification forms from a retention perspective yet?

Is your company determining whether "work-from-home" may be a permanent option for some functions?
April 16, 2020 
Theme: Information Governance and COVID-19
Topics: 
Privacy regulations may be relaxed during a pandemic. Any suggestions on how to ensure data sharing during a pandemic will not come under scrutiny once we are no longer under a pandemic?
Many organizations are looking for ways to improve education and keep people sharp while working from home, do you have suggestions for IG professionals?
How are organizations with geographically dispersed field offices (plus HQ offices) managing records management activities internally along with their offsite storage vendor(s)? Have organizations put less of a priority on RIM at this point?
With remote workers, what additional cybersecurity measures are organizations putting into place, if any?
Are most RIM-related employees continuing to work from home? If not, what is the rationale for them working from the office? If they are working from home, have they received a timeline for reporting back to the office?
If RIM-related employees are working from home, are they able to collaborate and work on in-progress RIM projects and initiatives or initiate new initiatives?