Versatile Retention is a complete schedule management and research solution that gives your business total control over your retention schedule. Our Domestic subscription has over 73,000 U.S. federal and state records-related requirements covering general business and prevalent industries out-of-the-box. An optional North American subscription includes over 80,000 U.S., Canada, and Mexico records retention citations. Our International subscription reaches a global research footprint to 140 countries and over 130,000 citations, making this the most robust solution on the market.
The Most Robust Retention Schedule
solution available on the market.
Starts at only $3,540/year.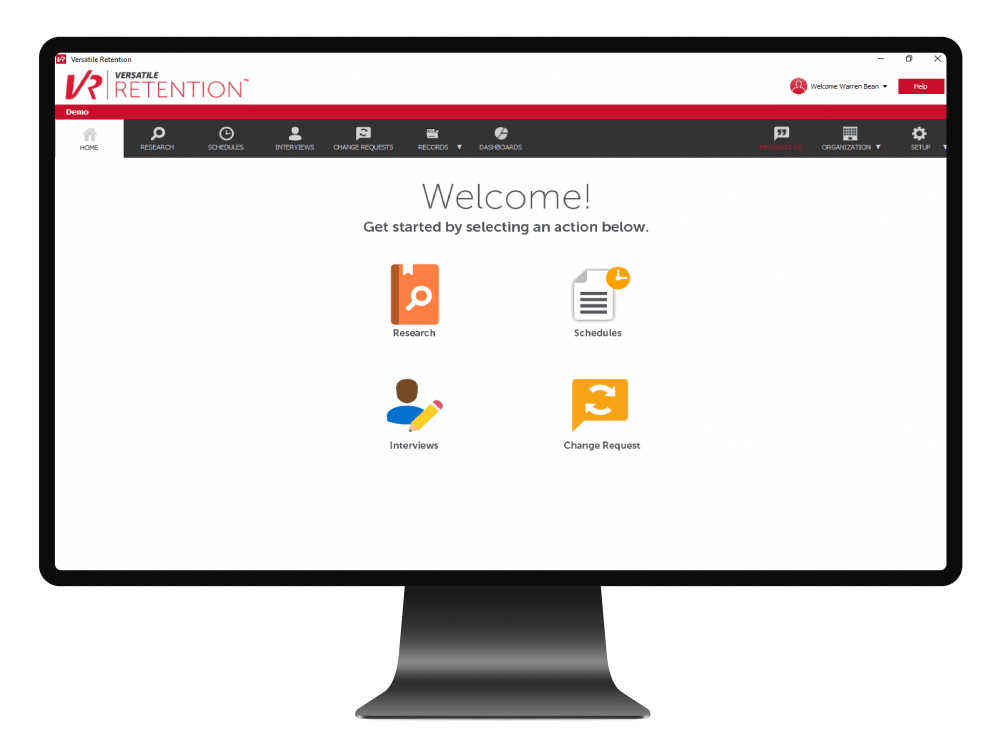 Key Features and Benefits
Research by Industry Experts
Zasio employs a team of full-time staff, comprised of legal research experts and licensed attorneys, to research legal citations. With your subscription, you'll receive access to our International, North America, or U.S. research database. These databases contain records related citations for general businesses, supplemented by jurisdiction specific research gathered during consulting engagements and prevalent industries covered in commonly requested jurisdictions. The above efforts extend our global research footprint to over 140 countries and 130,000+ citations.
Regular Schedule History
View your records retention schedule as a point-in-time snapshot or view the history of changes over time by multiple search criteria.
Regular Citation Updates
Citation batches are published on a regular basis and are available to SaaS users as part of their monthly subscription fee or to on-premises users as part of their annual maintenance and support fee.
Multi-Level User Access
Versatile Retention offers both Administrator and End-User access. Administrators have full access to the software and also have the ability to make changes to the schedule. Whereas end-user access is for users who do not need full administrative capabilities.
Audit Control
Manage schedule updates and the approval process confidently, knowing every change is fully audited.
Create and Maintain Retention Schedules 
Ability to create records retention schedules at the global, company, or department level. Our intuitive search engine allows you to search for citations and link them to schedule titles to show legal backing for retention rules.
Robust Reporting System
Create unlimited custom reports or use one of the provided templates. Customize retention schedules so you only see the data you need. Build a basic report with a few clicks of your mouse.
Integration Capabilities
Versatile Retention is a powerful tool on its own, but it can also be integrated with other repositories so that you can update the retention schedule in one place and let those changes flow downstream to other applications. Zasio developed its own middleware, Versatile Fuse™, to allow connections to virtually any API, including common platforms such as SharePoint and publisher/subscriber middleware systems.
User-Defined Security
Keep your organization compliant with audit history for all schedule changes and security controls to limit access. You'll never have to compromise security for function; information is secured and configurable as user roles change.
User-Friendly
Versatile Retention is both intuitive and easy to use. The interface is easy to navigate and comes included with searchable Help for users to access at any time. We provide in-depth online training for users and also provide access to our full-time support personnel.
Flexible Hosting Solutions
Software-as-a-Service
Our online model allows you to access Versatile Retention anywhere, at any time. There is no software to install, no servers to manage, no updates to apply—all you need is a web browser.
On-Premises
You install our software on your servers, giving you control over configuration, security, and access as your organization requires.
Why Choose Versatile Retention?
Versatile Retention is the most robust retention scheduling solution on the market.
Laws and regulations require businesses to keep various records for a certain length of time. The growing number of privacy laws and regulations around the world also place strict requirements for handling and disposing of personal information within certain periods of time. Finding and complying with such laws has become increasingly burdensome for companies due to the growing complexity and breadth of laws. Versatile Retention is the most robust retention schedule solution available on the market and provides a comprehensive solution to this business challenge. Rest assured this work is done by a team of in-house experts — attorneys, analysts, Certified Records Managers (CRMs), Information Governance Professionals (IGPs), Certified Information Privacy Professionals (CIPPs) — dedicated to researching and updating the legal research database. CLICK HERE to meet our research team!
Multinational organizations will benefit from the ability to create one master schedule, easily designate which countries are covered by each schedule title, and add country-specific exceptions to the global rules. The software supports data in any language and can support displaying the user interface and menus in a language suitable to the user.
These Add-On Modules Complement Versatile Retention
Expand the Power of Versatile Retention

Providing critical notifications to individuals with a need to know is becoming a top priority within the records management industry. Send personalized emails to notify users of events occurring in Versatile. Automatic notifications may be scheduled as a timed job or triggered by virtually any business process. You can rest easy knowing that due dates and important details won't fall through the cracks.

Versatile Electronic Records Management System™ (ERMS) now works with Versatile Retention™ to directly manage retention in electronic repositories. With Versatile Retention and ERMS, you can manage retention directly in Office 365, SharePoint, Google Drive, Microsoft OneDrive, DropBox, and more. Even shared network folders can have retention policies applied directly to your documents. No more copying the retention schedule policies from one system to another. With Versatile Retention and ERMS, you can have one seamless solution to manage the retention of your documents across the enterprise.

Not every person in your organization needs access to the full Versatile application, but many might need to request access to certain records. With Versatile Corporate-Wide Access, requesting access is easy and can be done anywhere via the Web. When you add Versatile Corporate-Wide Access to Versatile Retention, for example, you can search boxes and files, as well as view corporate retention schedules. You can then send an electronic checkout request to the records center. Versatile Corporate-Wide Access places records and retention information within everyone's reach, with minimal training.