What excites you about Zasio's products and services? 
Zasio's international scope of research excites me most about what we offer, specifically our scope of privacy and data protection laws.
Tell us about your role at Zasio.
I am an Analyst on the Consulting team. My previous experience working on the Legal Research team has given me a good base for digging into laws and secondary sources to figure out what the regulators are really asking for. I use this knowledge base in the application of our citations or researching ad-hoc questions for our clients.
How did you get into Information Governance consulting and why do you like it as a career field?
A fair amount of attorneys will tell you the same thing about their careers, that they just "fell into that field". That's how it was for me. Before working at Zasio, I had no idea that Information Governance even existed. I enjoy it because it offers an interesting perspective in an area where business, law, and records management converge. That's something that not many careers offer.
What is the most important thing you recommend people keep in mind about RIM?
Privacy requires a lot more accountability in RIM than it has in the past. I think companies are going to have to really show their work when it comes to how they are storing their information.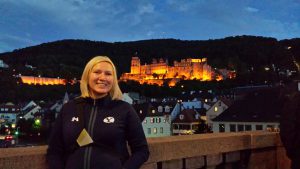 What is something you like to do in your free time?
I love the water, whether it's swimming laps, rafting, paddle boarding, floating the river, hot tubbing, water balloon volleyball or just having a water fight with the family. If there's water involved, I'm there.